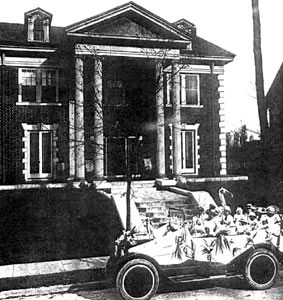 Woman suffrage leader Abby Crawford Milton became involved in the suffrage movement after marrying newspaper publisher George Fort Milton, moving from Georgia to Chattanooga, and giving birth to three daughters. Milton received a law degree from the Chattanooga College of Law, and although she never practiced law, she believed that legal training improved her mind and gained her credibility with the courthouse crowd. She was the last president of the Tennessee Equal Suffrage Association and the first president of the League of Women Voters of Tennessee. Like many dedicated suffragists, Milton traveled across the state giving speeches and organizing suffrage leagues in small communities.
During the height of the 1920 battle for the ratification of the Nineteenth Amendment to grant woman suffrage, Milton spent the entire month of August in Nashville lobbying members of the general assembly to secure pro-suffrage votes. Carrie Chapman Catt, the national president, praised Milton's efforts and depicted the Nashville battle as one of the fiercest waged on behalf of woman suffrage. Fist fights broke out in the lobby of the Hermitage Hotel, where legislators, suffragists, and anti-suffragists lived during the Special Session of the Tennessee General Assembly. Anti-suffragists controlled the hotel mezzanine and plied legislators with liquor. Every morning, the lobby of the hotel filled with red roses, the anti-suffrage symbol.
After the legislature ratified the amendment and secured suffrage for all American women, Milton returned to Chattanooga, where she continued to push for legislative reforms to benefit women. She also worked to secure the creation of the Great Smoky Mountains National Park. She attended Democratic national conventions as a delegate-at-large, and in 1924 she gave the seconding nomination speech for William Gibbs McAdoo in his unsuccessful run for the party's presidential nomination. In the late 1930s Milton ran unsuccessfully for the Tennessee State Senate, taking a stand in support of the Tennessee Valley Authority during a controversial period when the agency was involved in the takeover of local power companies.
Milton died in 1991 at the age of 110.
Suggested Reading
Carole Stanford Bucy, "The Thrill of History Making: Suffrage Memories of Abby Crawford Milton," Tennessee Historical Quarterly 50 (1996): 224-39